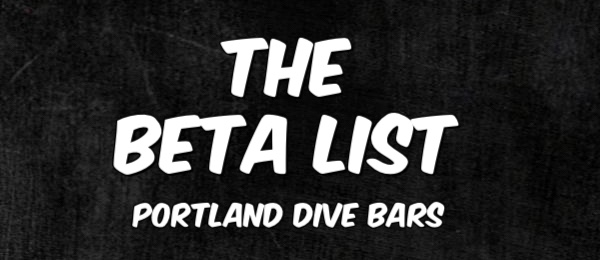 Portland Dive Bars – The Beta List
Below is the initial list of possible Portland Dive Bars that Steven and kcisme have collected so far.
They are in the process of visiting each bar on this list. ( nice work, if you can get it!)
If the bar turns out to be a genuine Dive Bar, it will get a profile article here on this website.  It also may be featured in the forthcoming Portland Dive Bar book.
If a bar on this list turns out to sadly, NOT be a Dive Bar,  it will be moved to the "Not a Dive Bar" list – www.portlanddivebars.com/not-a-dive-bar
A Dive Bar You Have To Add to This List!
If you look over this list below and you notice that a Portland Dive Bar has been left off – please let Steven and kcisme know!
You can message them via the Portland Dive Bars Facebook page – www.facebook.com/Portland-Dive-Bars
Possible Portland Dive Bars
 Alleyway Bar
Angelo's
Bar 3
Bar of the Gods
Barlow Tavern
Belmont Inn
Billy Ray's
Blue Bird Tavern
Brooklyn Park Pub
Cheerful Bullpen
Chopsticks
Commodore Lounge
Cosmo Lounge
Crab Bowl
Crow Bar
Dockside Saloon
Donnie Vegas
Eastern Pearl
Gil's Speakeasy
Hanigan's Tavern
High Water Mark
Holman's Bar and Grill
Hour Glass Eatery and Pub
Joe's Cellar
Kay's Bar
Jolly Roger
Kelly's Olympian
Low Brow Lounge 
Lutz Tavern
Mad Hanna
Maddy's
McPeet's Portland Pub
Momo's
Montana's Bar
Mousetrap Tavern
Mt Scott Pub
My Fathers Place
Nick's Parkrose Pub
Old Gilbert Road Tavern
Paymaster
Railside Pub
Reel M Inn
Road Side Attraction
Sandy Hut
Santeria
Sckavone's
Shanghai Tunnel
Shop Ahoy Tavern
Skyline Tavern
Slammer Tavern
Slim's in St Johns
Slingshot Lounge
Space Room lounge
Starday Tavern
Suki's Bar & Grill
Tanker Bar
The Alibi
The B side Tavern
The Bear Paw
The Cracker Box Tavern
The Eagle Eye Tavern
The Firkin
The Hutch Tavern
The Know
The Penguin Pub
The Rumpus Room
The Ship Tavern
The Spare Room
The Standard
The Trap
The Water Trough Saloon
Tony's Tavern
Triple Nickel
Yamhill Pub
Yorgo's Greeley Avenue Bar and Grill
Yur's Bar & Grill