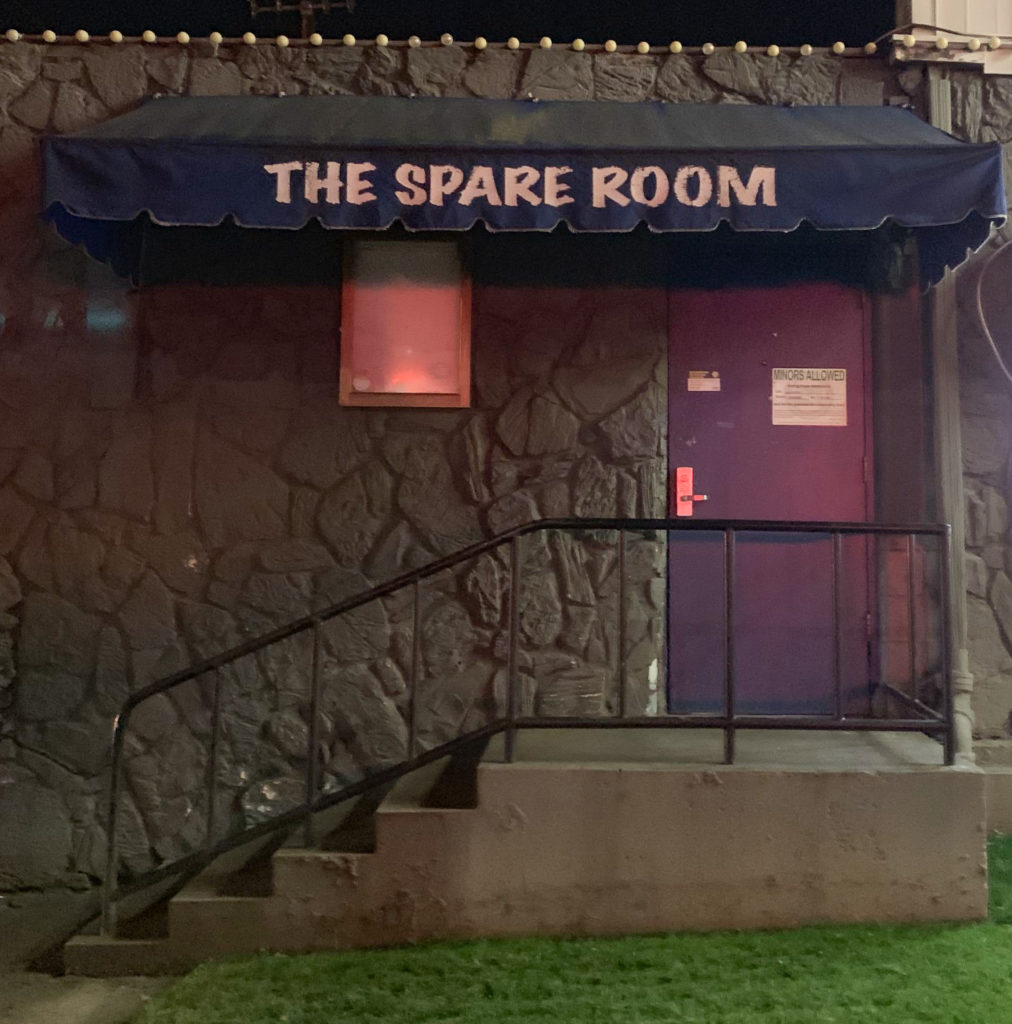 The Spare Room
Quadrant – The Spare Room is located in Portland's Northeast Quadrant.
Address – 4830 NE 42nd Ave Portland, OR 97218
Our Experience
We almost drove right past it, not because it is tiny, but more because it is a weirdly nondescript monstrosity. But inside, it hits all of the right notes!
Dark and dingy with the lingering aroma of bleach in the air. It's a cavernous space. There's not one but 2 bar areas; one traditional with a modest sized bar with bar stools and the obligatory poker machines, the other cozier with sofas and chairs in front of a fireplace.
There are booths and tables scattered within a vast space with a stage that appears it may have hosted strippers at some point in the past (though the pole is no longer in evidence). Posters about the place advertise musical acts and karaoke. And tucked off to the side is a room with pool table and full-sized shuffleboard with a small fireplace and seating area.
Full bar, just 3 taps with PBR and bud light occupying 2 of those. The efficient kitchen with titty posters visible through the pass through puts out a full menu including turkey dinner with all the fixins'!
The best part! Breakfast is served all day! Our server proclaimed their bacon is the best in town. We were appropriately reserved in our judgement, but turned out she was not wrong.
They also have $5 breakfast and lunch specials that were a good deal. Hopefully the last supper velvet painting on the wall won't be prophetic for our meal.
Is it a destination dive bar? No, but it is a solid locals dive with cheap and good eats. Dive bars serving breakfast are rare gems.
Plus, you could bring your kids, if so inclined, as it is technically a bar and a restaurant. Not sure if that is a selling point or not, but there you have it!
Cheers!
Kc is me &  Steven Shomler
Below Are Photos From The Two Visits We Have
Made So Far to The Spare Room Dive Bar