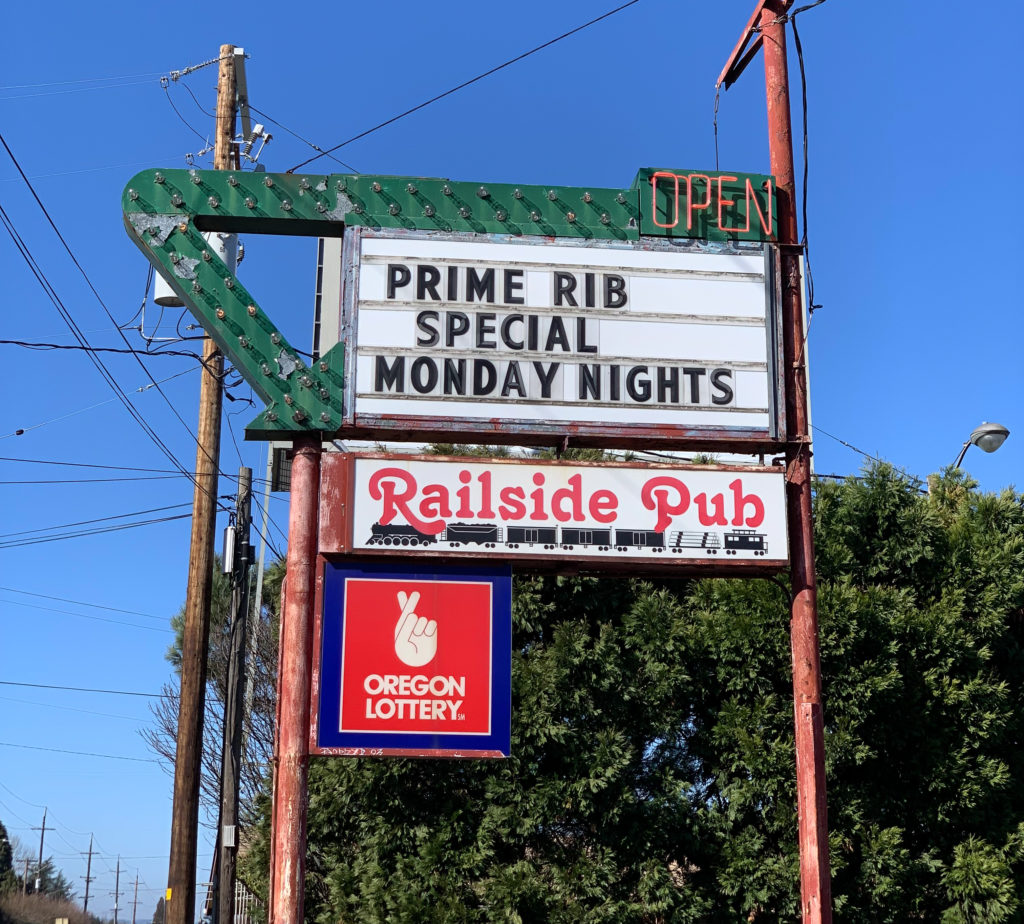 Railside Pub
Quadrant – The Railside Pub is located in Portland's Northeast Quadrant.
Address – 5301 NE Portland Hwy, Portland, OR 97218
Our Experience and Observations 
Is it open? Hard to tell since the only vehicle parked in the lot was a hearse, but we venture in anyway.
What a hidden gem! Perfect size, cozy but not claustrophobic.
Clean without the acrid smell of industrial strength disinfectant. Lighter than most dives, but acceptable. Foosball and pool table. A few video poker machines unobtrusively lined up against one wall (what is it with Portlanders and video poker anyway?).
Delightful bartender named Ash who made us feel welcome (will need to check out her Danse Macabre Gallery sometime at Hollywood Vintage).
Turns out this little joint makes a whole lot of tasty food, much of it housemade.
Ash steered us toward the French dip and so glad she did! Prime rib and grilled onions piled onto a grilled roll with au jus and REAL horseradish on the side (by request).
The meat (from Gartner's just down the street) and au jus are made right there on site and were super tasty. Came with an enormous side of perfectly fried tots for an excellent value.
The jalapeno poppers were awesome and again, giant order. We couldn't even finish them, and that's rare!
The day we were there they had 3 craft beer taps and one cider tap.
Smallish, well-worn bar. Protected smoking shelter out back.
Our Recommendation 
Railside is most definitely  a destination dive bar! Head out that way as soon as you can!
Cheers!
Kc is me &  Steven Shomler
Photos From Our Visit to The Railside Pub