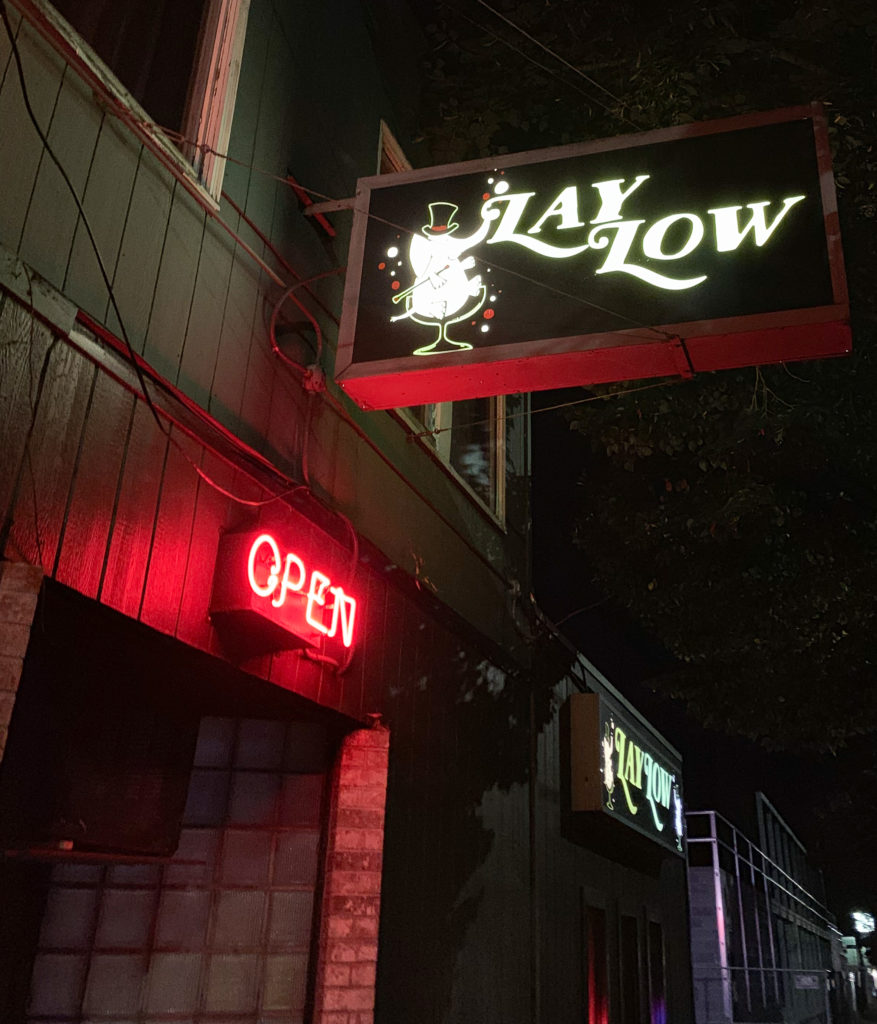 The Lay Low
It was a balmy summer night when we first wandered into the Lay Low. And so glad we did! This place has it all – dark, right size, great music playing, friendly and efficient bartender with a heavy hand.
The memory of years of cigarette smoking inside the joint lingers in the air. Retro-rama décor with scattered examples of taxidermy and kitschy old cheap beer swag. Comfy barstools, scattered sticky tables and a good sized patio out back for those interested in damaging their lungs while they pickle their livers. Pinball and poker machines.
10 taps, most of them craft, a couple crap. Full bar with lots of cheap food and drink specials including scotch and water for $1.75 on Wednesdays and another deal for imperial pints and $5 wings on Mondays.
We were disappointed that there were no poppers on offer, but they made up for it by offering breakfast on the weekends! 
The sleeper hit though, by far, were the slushy drink machines. These usually strike me as cheesy, but on the night we visited they were featuring a chi chi and it rocked! It is basically a pina colada made with vodka instead of rum. It was delicious and dangerous. Definitely had flammable breath after that one.
All in all, this place is a solid dive and comfy – feels like you could hang out there happily for hours.
Quadrant: Southeast Address: 6015 SE Powell, Portland
Happy Hours: 2-6pm daily
Full kitchen: Yes
Jalapeno Poppers: No
Breakfast: Yes, on the weekends
Outdoor Seating: patio in back
Distinguishing features: Great specials, perfect specimen of a dive bar
Words by KC is me 
Photos by Steven Shomler